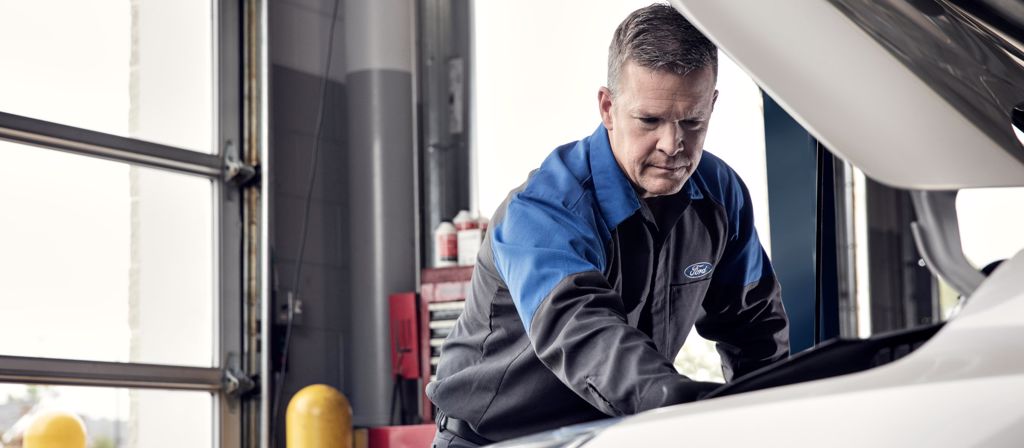 Ford Service in Blenheim
Our commitment to you
Convenience. Reliability. and no nasty surprises. That's what service should be. Feel at ease knowing that your car is being cared for and serviced by trained technicians using specialised diagnostic equipment. After all, nobody knows your Ford better than we do.
Mckendry Ford Technicians are Ford Factory trained to the highest industry levels and are involved in audited ongoing training programs. Passionate about maintaining your vehicle to the highest standards and committed to ensuring that your vehicle is safe, not just for you but other road users too,
As a Ford authorised repairer, we are completely trusted by the manufacturer to perform servicing, repairs, and any other maintenance to its exacting standards. Mckendry Ford Technicians and our Service Bays are equipped with the latest specialised diagnostic equipment plus a massive network of knowledge and skill to investigate any area of your vehicle that needs attention and fix it first time, so you can have confidence in our ability to maintain your vehicle's performance and condition. Any work carried out will be competitively priced and ensures that performance and value of your vehicle is preserved.
Making sure your vehicle is running at optimum performance also improves fuel efficiency, prolongs the the life of your vehicle and can prove much cheaper in the long run.
Contact us now to arrange a suitable time to have your vehicle serviced - Phone Glenn Beamsley Service Manager on 03 5785359 or email [email protected]
Rethink what service should be
Loan Car

We have a range of Ford loan vehicles to keep you on the go. So when you book a scheduled service, book a late model loan car that works for you.1




MapCare*

When you have a Ford with sat-nav we can help you stay on track with map updates included with every scheduled service.2
*Only available on SYNC2 models when software updates are available.

Extended Roadside Assistance

Assistance even after your new car's standard Roadside Assistance ends. Keep servicing with us and receive Extended Roadside Assistance with your scheduled service. No matter how old, or how many kilometers it has done.3




Vehicle Report Card

Bring your Ford in for a service and we will complete a vehicle report card with a straight-forward indication of what was looked at, and what might need to be looked at in the future.



Book a service today with us and experience what service should be.
See ford.co.nz for full terms. 1. Loan Car – Vehicle model availability may vary. Available to eligible customers at participating dealers on scheduled logbook service or overnight warranty repairs. Booking required. Participating Dealers may require customers to comply with general usage conditions. 2. MapCare – Available annually at participating dealers with scheduled logbook services for up to 7 years (but no later than 30 September 2024). For eligible customers only. For vehicles fitted with SYNC®2 satellite navigation. 3. Extended Roadside Assistance - Excludes vehicles being used for hire and reward (taxis & rental vehicles, incl. camper vans). For eligible customers only at participating Dealers. Roadside Assistance provided with your scheduled logbook service for 12 months or until your next eligible scheduled service (whichever occurs first). Customers must comply with scheduled servicing intervals to maintain continuity of membership.